Merger activity remained steady last week with three new deals announced and nine deals completed.
The Final Stretch in the Twitter (TWTR) and Elon Musk Saga
Negotiations and litigation between Elon Musk and Twitter have been going on for months, starting before the deal was officially announced in April this year. On October 4, 2022, Elon Musk stated in a court filing that he was working to finance a deal to complete the acquisition of Twitter on the original agreed terms and asked to delay the trial that was scheduled to start on October 17, 2022. This news caused Twitter's stock to jump over 20% on Oct 4. Twitter opposed the motion but the judge granted a stay of the trial and gave both the parties time until October 28 to complete the deal.
The biggest issue now is Mr. Musk's ability to raise the debt needed for the deal. I think the deal is in the final stretch and added to my position last week.
I wrote the following last week, in an article on Seeking Alpha article, titled 'The Twitter Fiasco And The Case For Increased Activism'
The court case between Twitter (TWTR) and Elon Musk aired a lot of dirty laundry and a particular exchange of texts between Mr. Musk and Jack Dorsey made me realize that Jack Dorsey had no business being the CEO of Twitter, let alone two different public companies.

CEOs sitting around in their ivory towers of idealism need a reality check. I am certainly glad Elliott Management got involved in Twitter in early 2020, got a board seat and replaced Jack Dorsey with Parag Agarwal in 2021.

The specific text messages I am referring to are given below,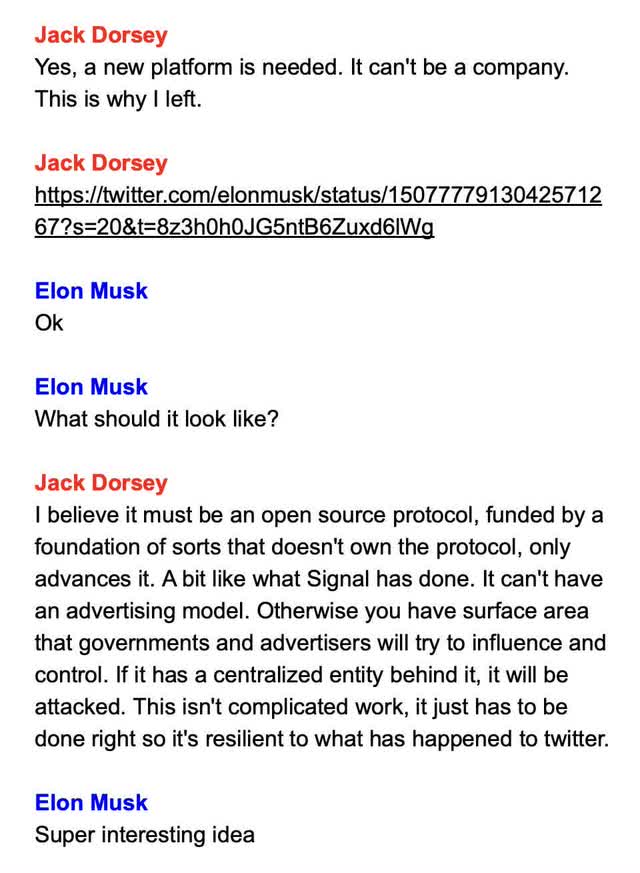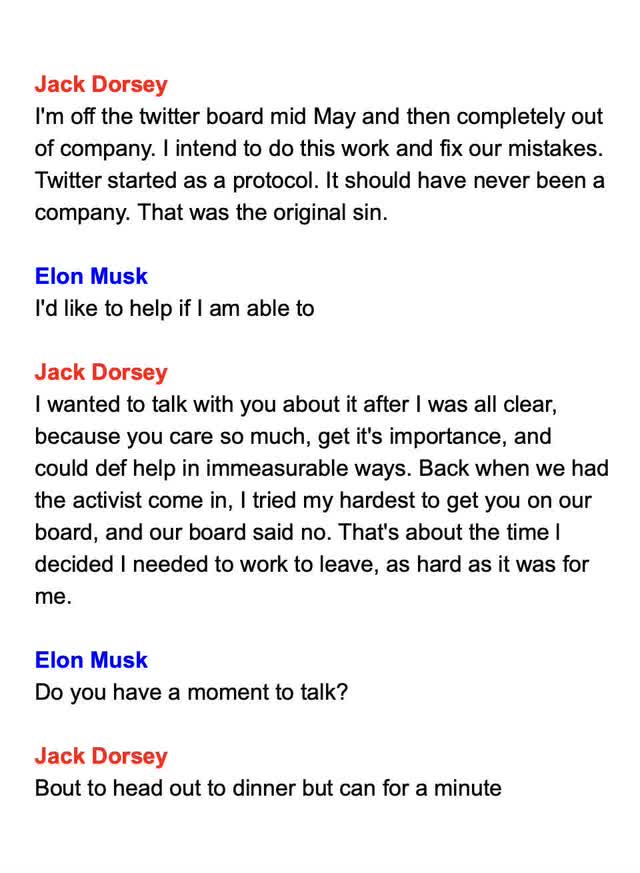 I have reviewed and followed over a thousand mergers during the last decade and I don't think I have ever seen a saga as crazy as Elon Musk's on again/off again acquisition of Twitter. The drama started even before a definitive merger agreement was inked where Mr. Musk wanted to purchase Twitter but Twitter was not interested in selling itself and adopted a poison pill provision.
---
Other deals facing regulatory hurdles include the acquisition of TEGNA (TGNA) by Standard General and the acquisition of Activision Blizzard (ATVI) by Microsoft Corporation (MSFT). Last week House Speaker Nancy Pelosi urged the FCC to scrutinize Tegna's takeover, citing concerns that the transaction could lead to less local news and journalism job cuts. Microsoft's acquisition of Activision Blizzard continues to face an in-depth probe in the UK, with EU antitrust regulators wanting to know whether Microsoft will block rivals after the deal.
The FCC has requested additional information from Tegna and Standard General and the company's responses are due by October 13th. According to a M&A journalist I was communicating with last week,
"The FCC has received and continues to receive a ood of lings in both support and opposition to the transaction.
A former FCC ofcial believes the transaction will be a good thing for the industry, local news, and diversity and
does "not see any harm in this deal."
The "ticking fee" with four escalating tiers that kicks in if the deal is delayed past next month will offset some of the impact from the deal getting delayed.  The four tiers are,
i) $0.05 per month if the closing occurs between the 9- and 12-month anniversary of signing
ii) increasing to $0.075 per month if the closing occurs between the 12- and 13-month anniversary of signing
iii) $0.10 per month if the closing occurs between the 13- and 14-month anniversary of signing and
iv) $0.125 per month if the closing occurs between the 14- and 15-month anniversary of signing.
I continue to remain long both Tegna and Activision Blizzard.
You can find all the active deals listed below in our Merger Arbitrage Tool (MAT) which automatically updates itself during market hours.
Merger Arbitrage
Deal Statistics:
Total Number of Deals Closed in 2022
152
Total Number of Deals Not Completed in 2022
5
Total Number of Pending Deals
Cash Deals
49
Stock Deals
18
Stock & Cash Deals
2
Special Conditions
8
Total Number of Pending Deals
77
Aggregate Deal Consideration
$1.07 trillion
New Deals:
The acquisition of LogicBio Therapeutics (LOGC) by Alexio, AstraZeneca Rare Disease. Under the terms of the agreement, Alexion, through a subsidiary, will initiate a cash tender offer to acquire all outstanding shares of LogicBio for $2.07 per share.
The acquisition of Poshmark (POSH) by Naver Corp. for $1.2 billion or $17.90 per share in cash.
The acquisition of First Eagle Alternative Capital BDC (FCRD) by Crescent Capital BDC (CCAP) for $145.6 million or $4.86 per share in cash.
Deal Updates:
Approvals
Hurdles
Shareholders Meeting Schedule
VMware (VMW) – November 4, 2022
Stealth BioTherapeutics (MITO) – November 15, 2022
Yamana Gold (AUY) – November 21, 2022
Closed Deals:
Weekly Spread Changes:
The table below shows weekly spread changes between September 30, 2022, and October 7, 2022.
Symbol
Quote
Acquiring
Company
Acquiring
Company Quote
Current
Spread
Last Week
Spread
Spread Change
Weekly
Deal
Type
ELSE
4.5
Mobile X Global, Inc. (N/A)
7.33%
-4.55%
11.88%
All Cash
SAVE
18.48
JetBlue Airways Corporation (JBLU)
6.61
81.28%
78.00%
3.28%
All Cash
SIMO
64.37
MaxLinear, Inc. (MXL)
34.22
65.94%
62.90%
3.04%
Cash Plus Stock
ROG
236.3
DuPont de Nemours, Inc. (DD)
52.36
17.22%
14.52%
2.70%
All Cash
EMCF
32.83
Farmers National Banc Corp. (FMNB)
12.59
-17.55%
-20.16%
2.61%
All Stock
LOTZ
0.2832
Shift Technologies, Inc. (SFT)
0.639
56.18%
61.53%
-5.35%
All Stock
TGA
3.55
VAALCO Energy, Inc. (EGY)
5.31
0.62%
9.44%
-8.82%
All Stock
TWTR
49.18
Elon Musk (N/A)
10.21%
23.63%
-13.42%
All Cash
MITO
0.3101
Stealth Parent Limited (N/A)
6.42%
22.58%
-16.16%
All Cash
FSTX
6.13
invoX Pharma (N/A)
16.15%
39.06%
-22.91%
All Cash
Top 10 deals with the largest spreads:
Please do your own due diligence on deals with large spreads. Some of these large spreads might be related to regulatory issues or because of the way the deal is structured. We classify some of these deals as "special situation" deals in our merger arbitrage tool and provide additional details to help with the analysis. There may be unique situations related to special dividends, spinoffs, proration, etc. that need to be accounted for when looking at these spreads.
Symbol
Announced
Date
Acquiring
Company
Closing
Price
Last
Price
Closing
Date
Profit
Annualized
Profit
SAVE
07/28/2022
JetBlue Airways Corporation (JBLU)
$33.50
$18.48
06/30/2024
81.28%
47.09%
SIMO
05/05/2022
MaxLinear, Inc. (MXL)
$106.82
$64.37
06/30/2023
65.94%
91.17%
LOTZ
08/09/2022
Shift Technologies, Inc. (SFT)
$0.44
$0.2832
12/31/2022
56.18%
247.04%
VMW
05/26/2022
Broadcom Inc. (AVGO)
$142.50
$109.81
04/30/2023
29.77%
53.53%
ATVI
01/18/2022
Microsoft Corporation (MSFT)
$95.00
$73.35
06/30/2023
29.52%
40.81%
BKI
05/04/2022
Intercontinental Exchange, Inc. (ICE)
$85.00
$66.02
06/30/2023
28.75%
39.75%
FCRD
10/04/2022
Crescent Capital BDC, Inc. (CCAP)
$4.79
$3.96
03/31/2023
20.96%
44.22%
SJR
03/15/2021
Rogers Communications Inc. (RCI)
$29.48
$24.69
12/31/2022
19.41%
85.36%
TSEM
02/15/2022
Intel Corporation (INTC)
$53.00
$44.8
02/15/2023
18.30%
51.79%
ROG
11/02/2021
DuPont de Nemours, Inc. (DD)
$277.00
$236.3
12/31/2022
17.22%
75.74%
Deals In The Works
Four new potential deals were added to the 'Deals In The Works' section last week.
Updates
SPAC Arbitrage
There was one new SPAC IPO filed, five new SPAC combinations announced and one terminated last week. You can find new SPAC IPO announcements in our SPACs tool here.
SPAC IPO
Aquaron Acquisition Corp. (AQUNU) announces pricing of $50 million IPO on October 3, 2022.
On October 5, 2022, Plutonian Acquisition Corp. filed its S-1 for a $50 million IPO as the first SPAC to file for an IPO in October thus far.
New Business Combinations
.Updates
Terminated
Goldenstone Acquisition Limited (GDST) entered into a joint agreement to terminate its combination with blockchain-based payments company, Roxe Holding.
List of all pending deals:
Disclaimer: I have long positions in Spirit Airlines (SAVE), Atlas Air Worldwide (AAWW), Biohaven Pharmaceutical (BHVN), Twitter (TWTR), First Horizon (FHN), Tower Semiconductor (TSEM) and TEGNA (TGNA). Please do your own due diligence before buying or selling any securities mentioned in this article. We do not warrant the completeness or accuracy of the content or data provided in this article.